Microsoft Sharepoint Web Hosting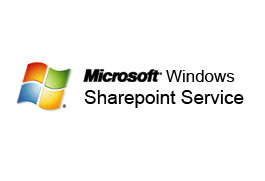 WebHostForASP.NET.AU fully support WSS 3 Web hosting SharePoint 3.0 offers some key improvements over SharePoint Version 2, along with the introduction of SharePoint Designer 2007 - an exciting new web site development and management program that provides you powerful tools to build, customize, and contribute to SharePoint sites using the latest web design technologies and established standards in an IT-controlled environment.
All our hosting plans fully support SharePoint Services 3.0 Hosting. With just one off installation fee of $15, you can run WSS 3 on your websites. There is no hidden or extra monthly fee for WSS 3 Hosting
Additional Information and SharePoint 2007 Product Highlights
Read the overview for an in-depth examination of the features and functionality of Windows SharePoint Services technology.

Read an overview on creating reporting and tracking applications, automating document-centric business processes, and designing and delivering attractive SharePoint sites.

See Microsoft Office SharePoint Designer 2007 in action. Learn how you can automate your business processes, build efficient applications on top of the Microsoft SharePoint Products and Technologies platform, and tailor your SharePoint site to your needs in an IT-managed environment.
What's New with SharePoint Services Web Hosting
Improvements to collaboration workspaces

SharePoint sites now offer e-mail and directory integration, alerts, Really Simple Syndication (RSS) publishing, templates for building blogs (also known as weblogs) and wikis (Web sites that can be quickly edited by team members-no special technical knowledge required), event and task tracking, improved usability, enhanced site navigation, and more.

Enhancements to content storage

SharePoint lists and libraries now provide per-item security for better data control and integrity, a recycle bin, and enhanced flexibility for storing more types of content. Row and column capacity has also been increased, as has retrieval speed. Windows SharePoint Services Version 3 can be easily integrated with smart client tools. In particular, close integration with Microsoft Office Outlook 2007 provides offline access to events, contacts, discussions, tasks, and documents.

Easier provisioning of workspaces

Windows SharePoint Services Version 3 Web Hosting provides more sophisticated and flexible security, as well as greater control over security settings and permissions.

Robust foundation for Web applications

Windows SharePoint Services Version 3 Hosting provides greater flexibility for customization and development of Web-based services and applications built on the Windows SharePoint Services platform.
Microsoft SharePoint Hosting Plan in WebHostForASP.NET.AU
BUSINESS PLAN
Host 2 Website on IIS 7
2 GB disk space
2 MS SQL 2008
5 MySQL
15 GB Bandwidth

Hosting Platform
Supported Feature