Community Server Web Hosting
At WebHostForASP.NET.AU, we specialize in CommunityServerHosting. Our control panel has built in installation wizard for CommunityServer. We always update and maintain the latest version of CommunityServer in our control panel wizard. You can have CommunityServer installed in just 1 click and 1 minute installation.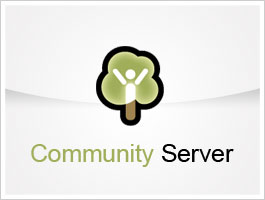 About CommunityServer
Community Server is an online community application built with ASP.Net which includes forums, blogs, photo galleries, and more. Community Server is used to power some of the web's top websites including www.asp.net and communityserver.org, and now it is available to you absolutely free.
Community Server is the award winning platform for rapidly enabling both small and large online communities. The current Community Server platform includes: a discussion system, blogging system, photo gallery system, user profile management, advanced permissions system, extensible theme engine, and much more. Community Server requires the SQL database addon.
Additional Information for CommunityServer Web Hosting
Designed for performance

Community Server is the platform of choice by small and large organizations; For example, Microsoft uses Community Server for running many of its community oriented sites (such as blogs.msdn.com)

Designed to be secure

From its SQL Server backend to its ASP.NET front-end and all the components in-between, Community Server has designed to be secure "out of the box", but also a platform upon which companies can confidently share secure and private information.

Unrivaled Permissions

Community Server presents the site manager with an unrivaled set of options via a robust permissions system for controlling all user actions within the application. Coupled with auditing capabilities you know what is happening in your applications at all times.

Extensible

With a skinning and theming system adopted by many other .NET applications Community Server allows for unparalleled flexibility with the end user interface (for example, www.gearlog.com and www.microsoftgadgets.com). Now with the addition of Community Server modules you can now also use a rich set of extensible components and add-ons to do even more with your Community Server system.

Reference Application

With the core source code published (code.communityserver.org) many imitations are available, but none can keep up with the rapid pace of innovation of Community Server. Community Server source is an often referred to reference used by thousands of .NET developers daily.

RSS, Email and News Server support

With features such as RSS and Secure RSS Community Server information is easily delivered in a variety of ways. Additionally through the News Server add-on and Email add-on your Community Server system is easily accessible on-line or off-line with any email client or news reader client.

Constant Innovation

In July of 2004 Community Server combined the first .NET forums, blogging, and photo gallery solutions into one cohesive platform. Bringing together a combined total of nearly 9 years of software and community creation experience. In September of 2005, Telligent acquired Dozing Dogs (a popular .NET Content Management System) and will begin to blend its functionality with Community Server as well.

Professional development

With a team of over 30 software developers Telligent provides unparalleled support, developer capability, industry leadership, professional services and everything else you would expect from a professional software and services company.
CommunityServer Hosting with WebHostForASP.NET.AU
Existing Customers

What Can I do with a Community Server website?

Community Server allows you to have your site up instantly with a Home Page, Blogs, Forums, Photo Galleries, and Files. You are able to manage your site using a built in control panel that allows you to manage your forums, members, and all the management features that you would expect. You have full access to all of your files so if you want to fully customize your site, there is nothing stopping you

How much does Community Server cost?

If you can live with keeping the small "Eula image" at the bottom of each page of the application, then you can run the free community version of Community Server. Otherwise, you can view the pricing at https://store.telligentsystems.com/FamilyProducts.aspx?id=1.
Community Server Web Hosting Plan in WebHostForASP.NET.AU
BUSINESS PLAN
Host 2 Website on IIS 7
2 GB disk space
2 MS SQL 2008
5 MySQL
15 GB Bandwidth

Hosting Platform
Supported Feature